Today, we launched a new format for the Agile Accelerator Inner Circle to enhance our learning and development experience.
Instead of watching different tasty techniques in the showcase, we want to try cooking them ourselves.
Here are the exciting session types lined up for our members:
Lean coffee - we discuss real-life challenges and brainstorm optimal solutions in a simple and enjoyable way.
Cook & Taste - members can try out their facilitation strategies in a safe place before presenting them to the team, and we taste it all together.
New recipes - I present new ways, techniques, exercises, and strategies to power up our toolset.
Reflection - we evaluate and observe our path so far, including our wins, failures, learnings, and next steps.
Sounds interesting, huh?
I'm sorry to say that the Agile Accelerator Inner Circle is a closed group, as I prefer to work tightly with people I already know. All members are from my Agile Team Coaching Program.
However, I decided to give a chance to people who are interested but somehow hesitant.
I am starting an open community where you can get a taste of what we offer before joining our restaurant.
If that's up your alley, pick the community link here: https://agileteamaccelerator.slack.com/
As a bonus, here is one recipe for you today:
Assume you have different functions (either working within your team i.e. product owner, designer, developer, QA, scrum master, etc., or those are different teams or business units), and you want to break the silos and enhance the communication between them.
The most powerful way to do so is to ask one simple question: What do we want from each other?
But how to facilitate this kind of discussion for maximum impact?
The help is here, and the exercise is "What I Need From You."
So what are the steps?
1. Select 5 functional groups in your organization or team that need to work well together, i.e., "sales," "marketing," "engineering," "legal," "operations," etc. or "product," "development," "design," "customer support," etc.
2. Use the template below to label the columns and rows using the functional groups you selected in Step 1.
3. I use Mural for this, but you can create the template anywhere you want.
4. Assign participants to 5 functional groups.
5. During the meeting, each functional group lists their top needs from each of the other functions in the room. Written in the form, "What I need from you is _____." Each group reduces their lists to two top needs.
6. Ask people from each function to find the row for the requests made to their function group and read and discuss the requests made to them. You can create small groups for inner discussions if there are many people across all functions.
7. Ask them to choose one of the following response stickies for each request made to their functional group. 5–10 min.
- Yes - means we will do it
- No - means we won't do it
- I have a question - means the idea is clear, but you need additional clarifications
- Whatever - means the request was too vague to provide a specific answer.
8. Return to your functional group column and review the responses to your requests. 10 min.
9. Give each functional group some time to discuss the things that are under their control or they can influence. 5 min
10. Come up with action items, i.e., the steps we will take next. Ask them to be specific and follow the SMART format.
Voilà! This exercise works wonders. Try it yourself and get back to me with the outcomes.
You can reach out either via community or LinkedIn.
Hope you found it helpful. :)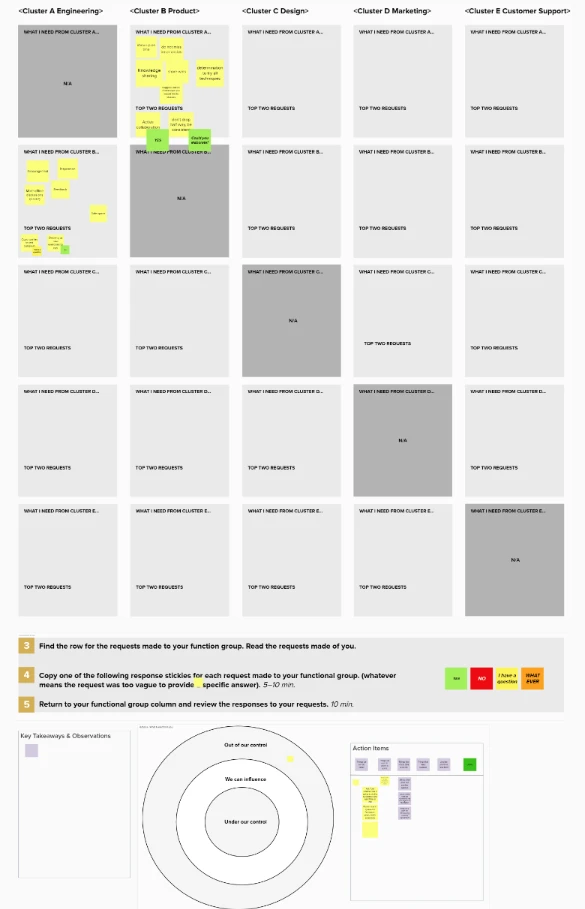 ===

Whenever you're ready, there are 4 other ways I can help you:

1. Follow me on Linkedin to get daily tips on #agile, #team coaching, #scrum master growth, #agile leadership, #agilecoaching #culture
2. Join the waiting list for Ultimate Team Performance Toolkit: a comprehensive collection of 20 exercises, templates and strategies to help measure and improve team performance and productivity.

3. Work with me 1:1 to grow in your Agile leader role or help your team and company grow.
4. Join the Agile Team Coaching Program: A targeted coaching- facilitation system to help Scrum Masters and Agile Leaders to identify team hidden obstacles and turn those into a growth plan in 30-60 days. Get on the waiting list!