Measuring and improving team health can be challenging, especially when dealing with multiple teams. As an experienced agilist, I understand the importance of having a system of the right tools and templates in place to understand the current state, analyze the gaps, and focus on the growth opportunities.
Here are 3 tools that can help you diagnose your team health today.
Team Health Radar Assessment
One tool that can help you measure team health and maturity is the Team Health Radar Assessment by Agility Health. It evaluates domains like clarity, performance, leadership, culture, and foundation, giving you a clear picture of your team's strengths and weaknesses. You can create a short description for each subdomain and ask your team members to score each element on a scale of 0 to 10, helping you identify improvement areas.
NOTE: Health Radar is not a tool to evaluate or assess performance nor is it an incentive model to drive employee performance. This is because it is always subjective.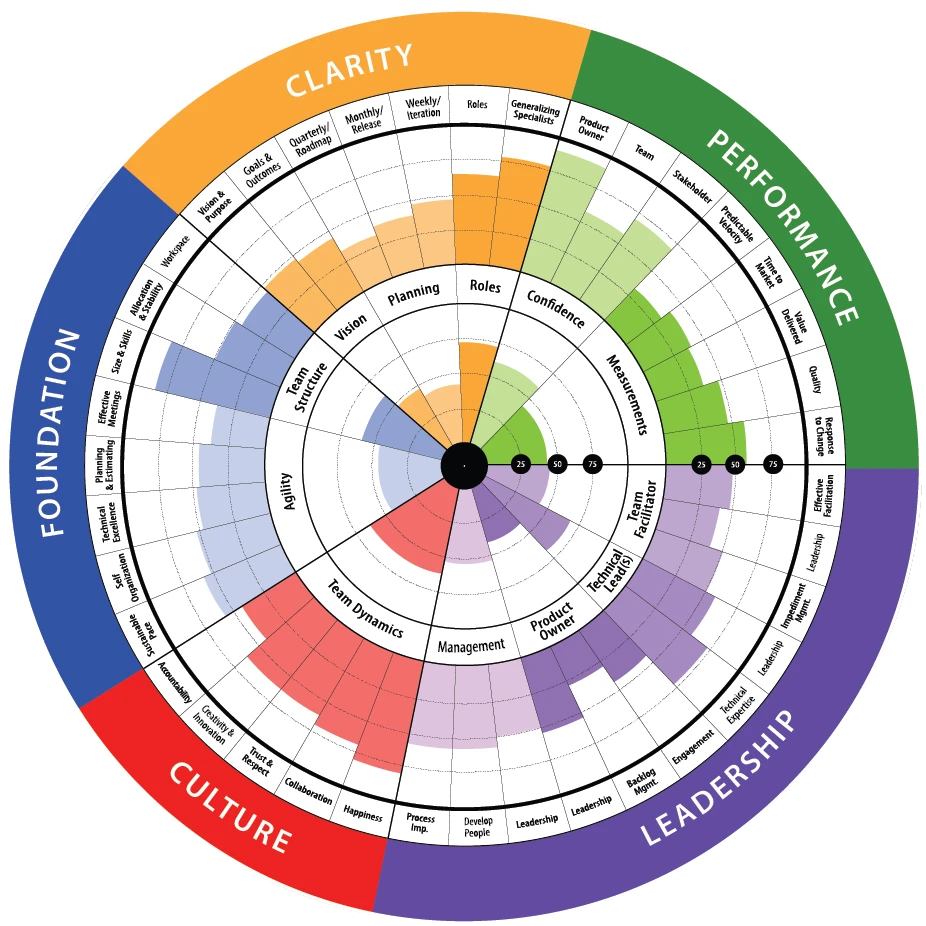 Scrum Team Survey
Another helpful tool is the Scrum Team Survey, which helps diagnose your Scrum team across different areas like responsiveness, continuous improvement, team autonomy, and management support. Running these surveys with your team members can help you spot patterns and develop improvement actions.
You can run these surveys together with your team members and check the results to see patterns and come up with improvement actions.
https://questionnaire.scrumtea...
Custom Team Health Checks
You can also create your customized radar in a spreadsheet, allowing you to change the areas based on your needs.
Some common domains that you can use for your radar include:
Goal-achievement
Collaboration & Feedback
Roles and Responsibilities
Retro actions & Improvement
Learning & Sharing
Product Backlog
Dev Practices
Quality
Commitment
Events
Product & Value
Motivation
Working agreement
Definition of Done
Estimation and Predictability
Safety and Trust
Collaboration
Here is a custom example: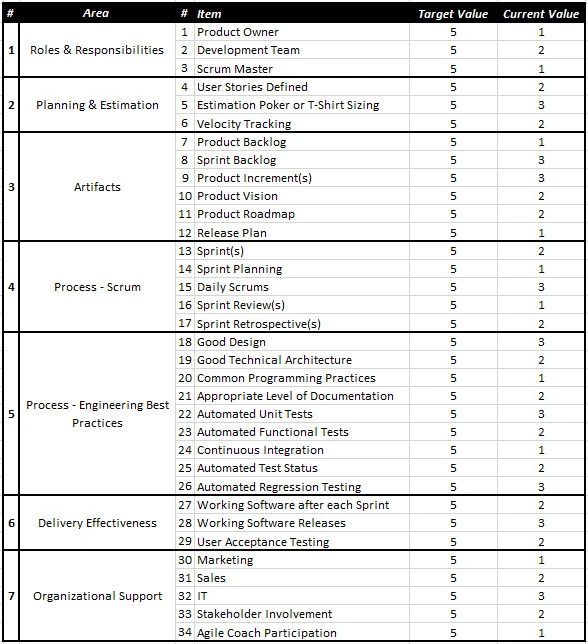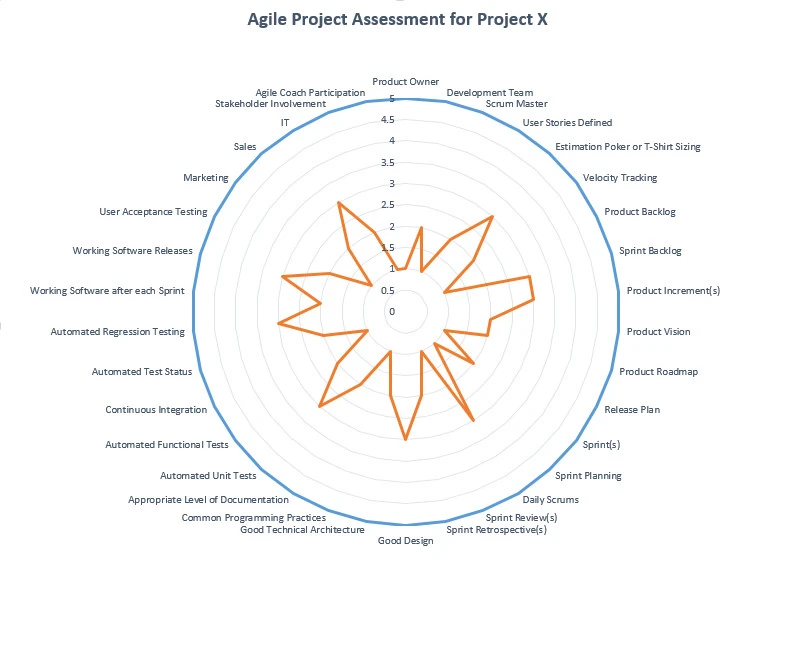 Alternatively, you can use the mood factor to run the health check:
A strong signal for creating a great team culture is to spend time finding out how everyone feels and discussing ways to improve communication, trust, and collaboration.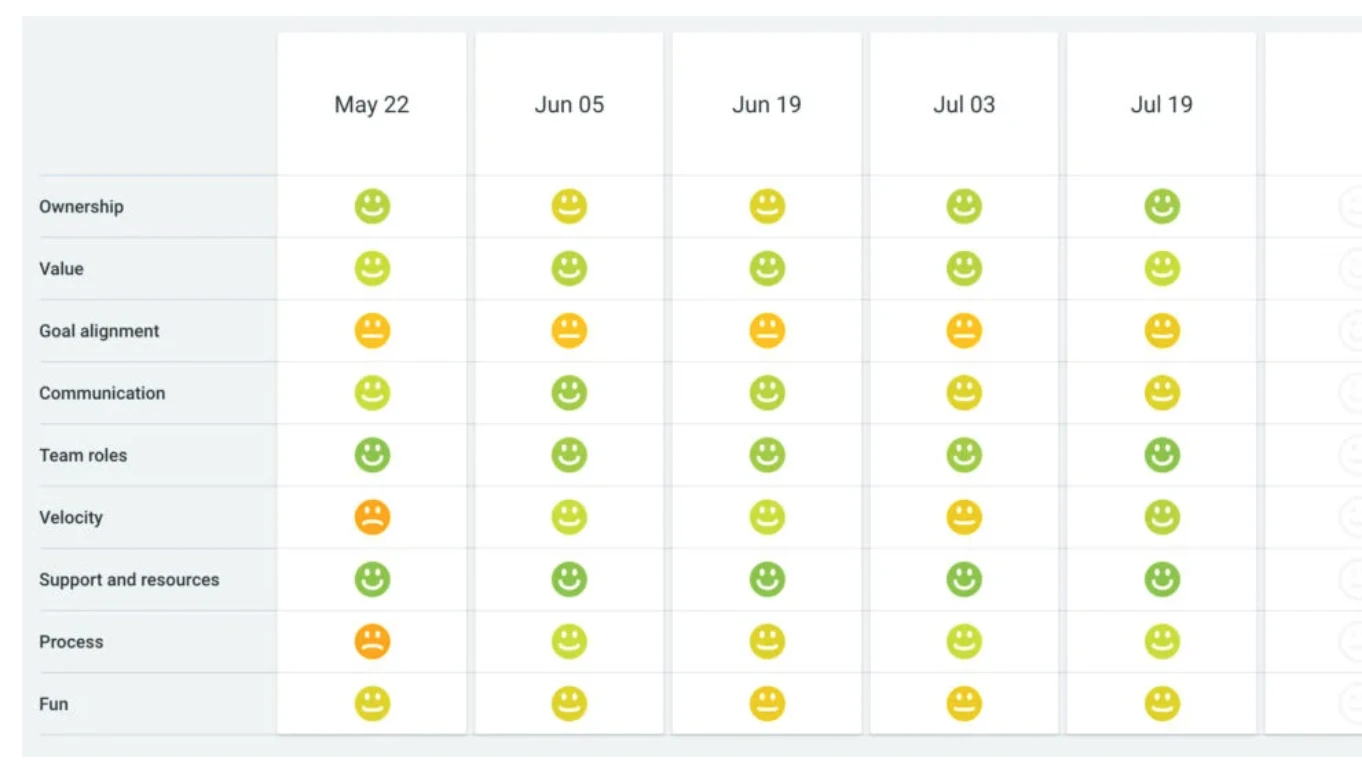 Do you need help combining different tools and templates into one system to measure team performance and productivity?
If yes, you can check out my upcoming Ultimate Team Health Toolkit.
This comprehensive collection includes 20 exercises, templates, and strategies developed over many years of working with over 200 teams. The toolkit contains practices for defining team effectiveness, performance and development stages, behavior in conflict situations, self-organization, work quality, productivity, responsiveness, predictability, business value calculations, and team working agreements.
To secure your spot with a founding price and be notified when the toolkit is available, simply fill in this quick form.
With the right tools and strategies in place, you can measure and improve your team's performance and productivity, helping your organization achieve its goals.
Hope you found it helpful. :)
===

Whenever you're ready, there are 4 other ways I can help you:

1. Follow me on Linkedin to get daily tips on #agile, #team coaching, #scrum master growth, #agile leadership, #agilecoaching #culture
2. Join the waiting list for Ultimate Team Health Toolkit: a comprehensive collection of 20 exercises, templates and strategies to help measure and improve team performance and productivity.

3. Work with me 1:1 to grow in your Agile leader role or help your team and company grow.
4. Join the Agile Team Coaching Program: A targeted coaching- facilitation system to help Scrum Masters and Agile Leaders to identify team hidden obstacles and turn those into a growth plan in 30-60 days. Get on the waiting list!