Recently, during one of the Agile Team Accelerator Inner Circle sessions, a Scrum Master shared his win. He was happy he could help a tech lead gain awareness about his current challenges and the ways to overcome those.
He started practicing the GROW model and Responsibility process inside my Agile Team Coaching Program. He was keen on learning to ask the right questions and ask the questions right to unleash people's potential, help them take responsibility, and guide them toward the proper focus and solutions.
He held a one-on-one session with the tech lead. His goal was to make the person in front take more responsibility for their team's technical growth and performance. He identified the underlying issues by asking powerful questions and showed him how the responsibility model works.
Further, the tech lead knew where he was and what he was doing wrong. He came up with improvement actions for himself which he was determined to realize in the following weeks.
The best part: Tom helped create awareness, intention, and impact on the team through someone else. In order to increase performance and create collaborative leadership, he involved others in the process. Viola!
So let's look into the GROW model and Responsibility process in detail.
GROW model
As a leader, one of your most critical parts is to coach your teams to do their best. Doing this, you'll assist them in making superior choices and decisions, fathom issues that are holding them back, learn unused aptitudes, and advance their careers.
In short, coaching is about asking for solutions. The GROW model is a simple yet robust framework to structure your sessions.
It stands for
- Goal.
- Current Reality.
- Options (or Obstacles or Opportunities).
- Will (or Way Forward).
Look into this as a journey.
Establishing the goal - decide where we are going with the team member(s), what we want to change, and make that change our SMART goal.
Examine the current reality - understand the current situation without rushing into solutions.
Explore the options - let them brainstorm all possible options or obstacles without making decisions.
Establish the will - they must commit to specific actions to achieve their goal. Help them establish their will and boost their motivation.
Tip 1: A coach's two most essential skills are the ability to ask good questions and listen effectively.
Tip 2: You do not need to be a therapist to fill the pulse and ask the right questions. 😉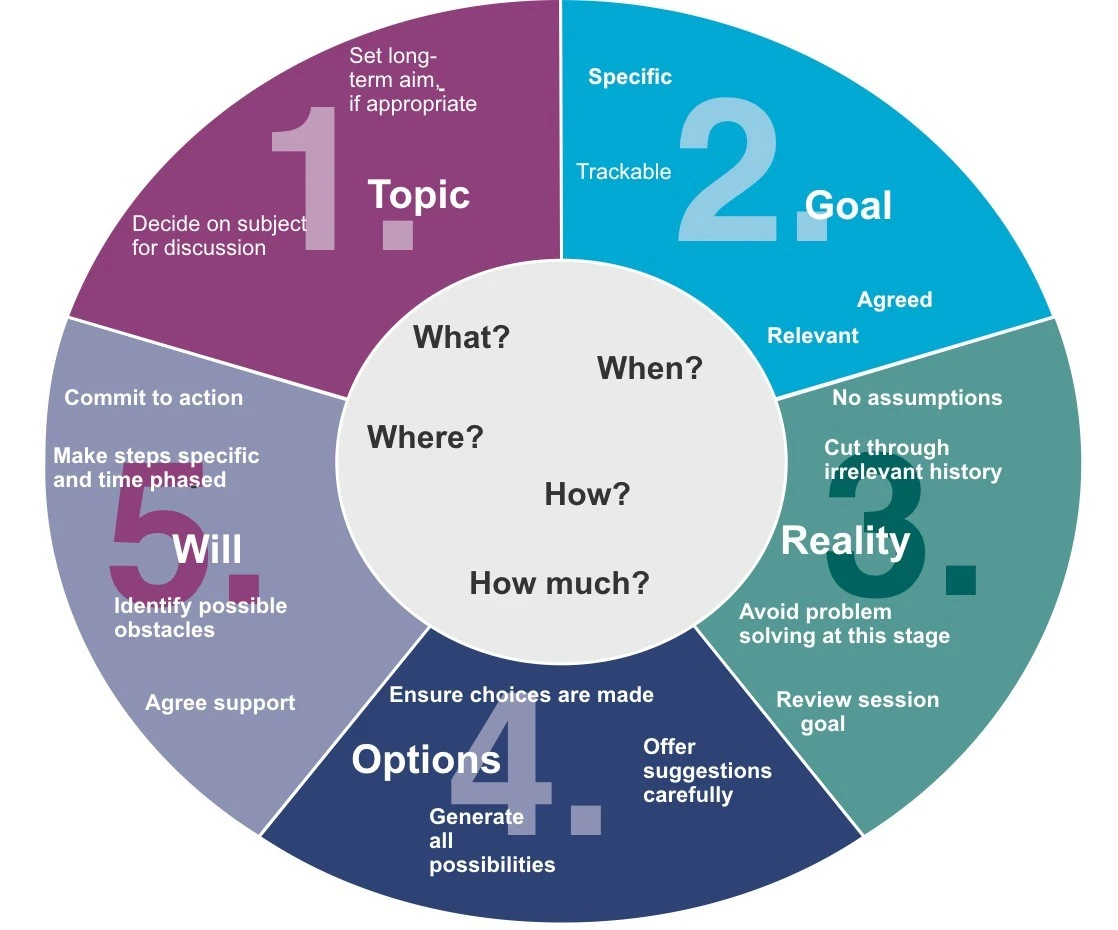 Responsibility process
Usually, we think about Responsibility when things go wrong, and we trigger the responsibility process with every upset.
There are several steps in the process we go through without acknowledging it:
Lay Blame - to make sense of us being upset, our mind suggests holding others at fault as a reason ( the other team did not do their part of the job, PO did not provide clear requirements, the team is not working well, etc.)
Justify - when you don't accept it, your mind offers to use excuses for how things are (it's the company culture, this is the way things happen in our company, this is the way the process is created, etc.)
Shame - if we don't accept it, we enter the next stage where we blame ourselves, which is often felt as guilt (I should have done it earlier, That's my fault, I had to predict these results, etc.)
Quit - there might be a stage where we do not want to think about the situation anymore; we do not want to find a solution but to forget it. We are giving up to avoid the pain of Shame and the burden of Obligation.
Obligation - if we continue the process, we find ourselves doing whatever we should do, not whatever we want to do (I have to be at that meeting, although I don't see it helpful, I have to update the board, although any team member can do that, I have to complete this task, as I started it, etc.)
Responsibility - is when we own our ability and power to create, choose and attract.
Taking Responsibility is the commitment to self-leadership...
And realizing that you have the freedom to choose every single moment.
Any willing individual, team, or organization can practice a responsibility model.
To do that, they have to have the following:
Awareness - observing and understanding the stage you are in, as well as the desire to act from the Responsibility process when things go wrong.
Intention - catching yourself in different stages as early as possible to be able to change your behavior accordingly.
Confront - facing yourself to see what you can correct and improve and do the needed actions to correct the behavior.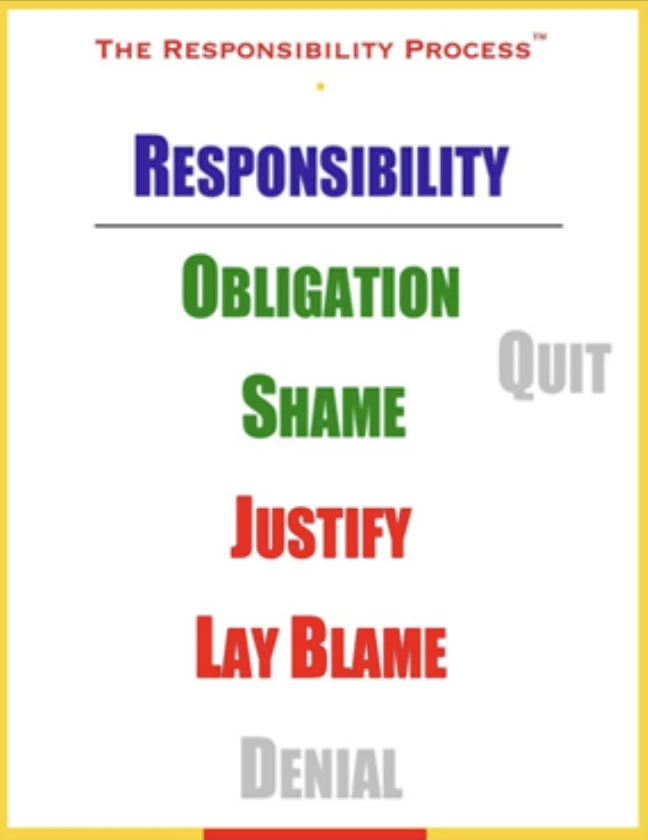 How does a true Agile leader help teams be accountable?
People do not commit to obligations.
They need:
- clarified intention,
- focused attention,
- no obligations,
- and positive energy.
These are the characteristics of good goals people would like to be accountable for.
If we can create an environment of Responsibility, then accountability happens easily.
To do that, start by asking yourselves these questions:
- Are you operating from Responsibility?
- Do you know what you want?
- Have you asked for what you want?
- Do you have an agreement?
- Call to action.
Hope you found this helpful. :)
==
Whenever you're ready, there are 3 other ways I can help you:
1. Follow me on Linkedin to get daily tips on #agile, #team coaching, #scrum master growth, #agile leadership, #agilecoaching #culture
2. Work with me 1:1 to grow in your Agile leader role or help your team and company grow.
3. Join the Agile Team Coaching Program: A targeted coaching- facilitation system to help Scrum Masters and Agile Leaders to identify team hidden obstacles and turn those into a growth plan in 30-60 days.Get on the waiting list!