ACCELERATING AGILITY WORKSHOPS
Dive into practices and strategies to improve your team and company agility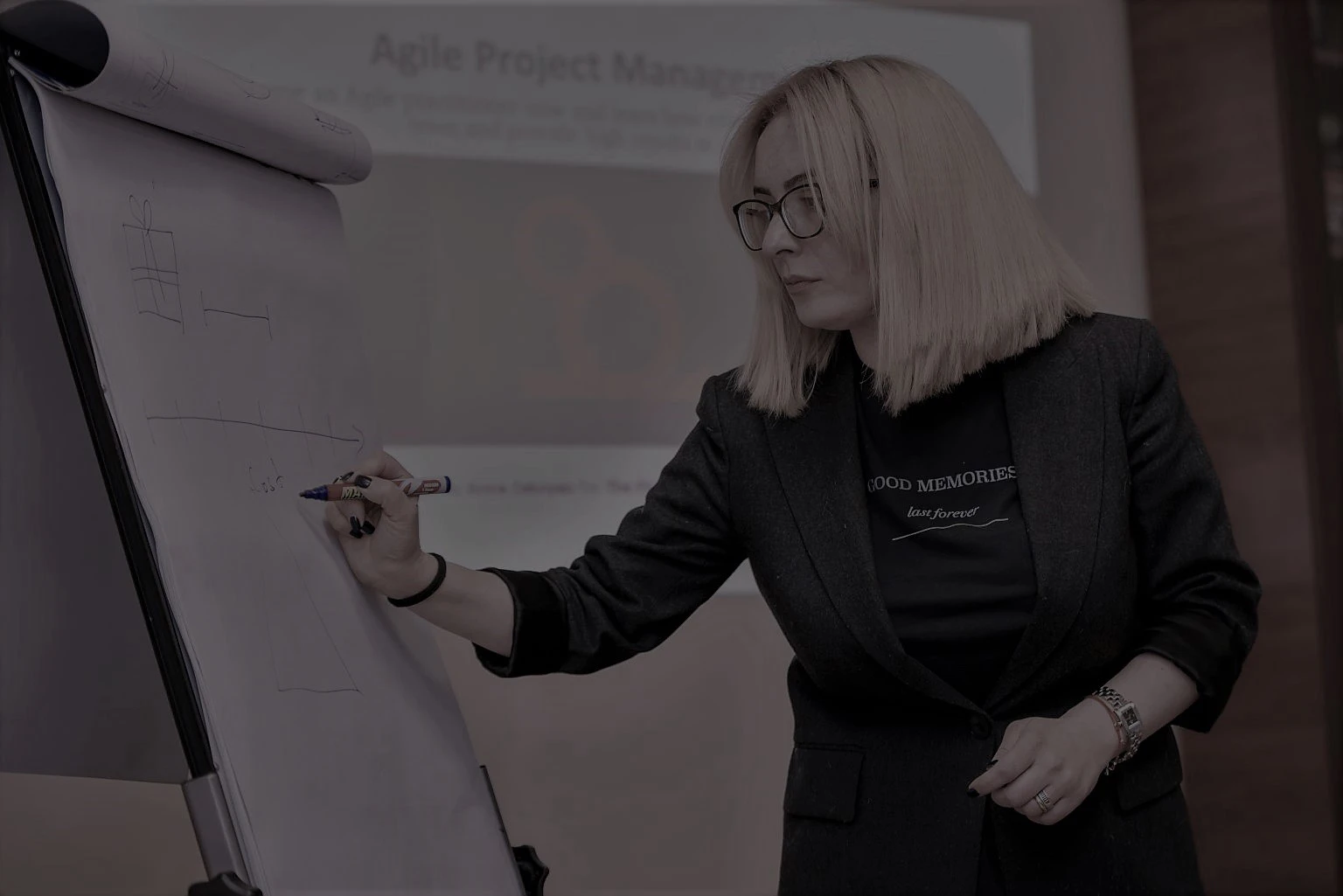 Small but powerful 3 hour lasting workshops to focus on a specific area or group of interest, or, if combined, these 12 sessions could create a solid foundation for accelerating value-delivery  in an agile environment in different people groups and roles.
All of the workshops are based on real-life experience, providing practical tips on improving the current processes.
NOTE: You can choose the options that align with your role, interests, and needs, or you have the opportunity to select all of them for a comprehensive understanding of team and company agility.
Agile vs agile- Way of doing or way of thinking? What is Agile, Growth mindset, No Buzz word but true agility,

Why Scrum, How it works,

Practicing through Lego Game or Airplane Game
Better User Stories

- How and when to write, add details, estimate, prioritise, refine, Story Mapping

Better Scrum events

- Why, Good and bad ways of handling Scrum Events

Better Retrospectives

- Why Retrospectives, The best way to seek/give feedback, Most effective ways to run it

Agile Roles and Responsibilities

-  Scrum Master vs Project Manager & Product Manager vs Product Owner, Snowman model

Start with Big Picture

- Product Vision & Strategy, Product Roadmap, OKRs and Goals

Agile Metrics that Matter

- Goals, Productivity, Efficiency, Load, Speed, Value-Delivery, How to extract the right data

Atlassian Jira Administration

- How to use it at its full potential

Lean Thinking

- Lean & the Toyota Way, Principles, Lean Product Development, How to reduce cost of delay by implementing Lean

Business Agility & Leadership Agility

- What is it? How to form and work with Agile Leaders, and improve company adaptability

Organizational Design

- Understand the Agile organization, New org structures, Scaled Agile concepts and what to pick from those for hybrid solutions

Talent Management -

Agile Roles and growth

paths, Collaborative onboarding and mentorship, Performance reviews and career mosaics
For corporate inquiries, please BOOK A CALL with us👆. 
Duration: Each workshop spans 3 hours, ensuring focused learning and interaction.
Group Size: With a maximum capacity of 30 participants per group, we guarantee personalized attention and engagement.
Flexibility: Our workshops are designed to cater to your preferences. Choose when and what to attend.
Comprehensive Learning: Benefit from a total of 12 workshops, allowing for in-depth exploration and thorough understanding.
Affordable Investment: Our workshops are priced at just $75 per person per session, offering valuable insights at a budget-friendly rate.
Join our waiting list
or send us your questions.